As an Amazon Associate, I earn from qualifying purchases.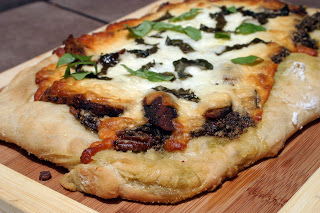 Day 169.
I love pesto. And I just so happen to have about 1/4 bunch of kale left over from those Kale Red Onion Corn Muffins. So, I get to make my delicious vegan kale pesto and use that delicious new Black Forest Bacon and snip a bit of my fresh basil. Yum. I delayed this pizza a day since our leftover creation turned out to be a pizza-like focaccia bread. I think it's going to be so worth the wait. And what perfect leftovers it will make for Father's Day brunch. Yum.
Pesto, Basil and Bacon Pizza
Adapted from Pesto, Basil and Bacon Pizza.
Ingredients
pizza dough, enough for 1 12-inch (I use Betty Crocker's recipe)
1/4 – 1/2 cup pesto
1/2 cup Daiya mozzarella cheese
1/2 cup mock Gruyere cheese
5 cloves garlic
4 slices Black Forest Bacon, chopped
fresh basil, julienned for garnish
Directions
Preheat oven to 425 degrees.
Roast garlic cloves in 1 tablespoon of olive oil in a skillet over low heat until soft. Set aside to cool until needed and reserve the garlic oil for later use.
Form your pizza dough into a 12 inch round. Par-bake for 8 minutes.  Evenly spread pesto on top.
Place garlic, bacon, cheeses and basil on top.
Bake 8 – 11 minutes at 425, basting crust with garlic oil halfway through cooking. Bake until cheese is melted and crust is slightly crisp.
The Results
Yum. I love this pesto still. So yummy. And the bacon and cheeses on top are super delicious. I'm absolutely in love with the garlic oil and basil on top, too.
This post is shared with What's for Lunch Wednesday and Muffin Tin Monday.
The Super Easy Vegetarian Slow Cooker Cookbook
Want vegetarian and vegan recipes you'll love? Check out my first cookbook! I'm so excited about it and I hope you'll love it. You can find more information about it right
HERE
.