As an Amazon Associate, I earn from qualifying purchases.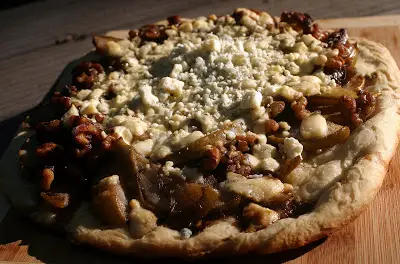 Day 227.
I got into the pear-gorgonzola-walnut combination in college. A friend worked at a local Italian restaurant and it was featured one day as the chef's special dessert. I've been addicted ever since. With that in mind, I'm making Pear Gorgonzola Pizza today.
Pear Gorgonzola Pizza
Ingredients
¼ cups slice Onion
1 tablespoon Olive Oil
4 teaspoons Balsamic Vinegar
½ cups Walnuts
1 cup slice Pear
1 individual Pre-made Pizza Crust, 8-Inch
¾ cups Gorgonzola Cheese, Crumbles
The Results
I really should've made two of these. This was absolutely fantastic. I need another one.
To participate this week here on Veggie Converter, you will be able to comment or link your Meatless Monday meals while I post my Meatless Monday challenge to myself, Vegan Mondays. If you're a vegetarian or vegan blogger and would like to be featured for Vegan Mondays, link up, or contact
[email protected]
.·
Now for the link-up rules: post your link to a meatless (vegan or vegetarian, or even an attempted meatless) recipe that you've posted on your blog.
This post is shared at·Mouthwatering Mondays, My Meatless Mondays, Cravings, Menu Inspiration Monday, Just Another Meatless Monday,·Homemaker Monday.·Meatless Mondays,·Mingle Monday, MMMmonday, Mangia Monday,Make a Food-e Friend and Monday Mania.
The Super Easy Vegetarian Slow Cooker Cookbook
Want vegetarian and vegan recipes you'll love? Check out my first cookbook! I'm so excited about it and I hope you'll love it. You can find more information about it right
HERE
.