As an Amazon Associate, I earn from qualifying purchases.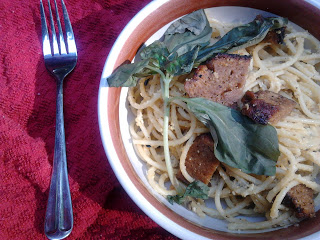 Day 154.
This is my husband's go-to dish. Back when we were dating (and when I occasionally ate bacon), he would make this for us on special occasions. It was good, albeit a bit greasy and meaty. But trying to convert it to a vegetarian or vegan meal is a tall order. The bacon really is the star of the dish. Eggs are important, too, and then there's the parmesan cheese. So, why not convert everything? Because I'm lazy today and I'm out of tofu. I'll let you know what I would have done to make this vegan, but I actually made ours with vegan bacon, vegan parmesan, and real eggs. All you have to do is sub in scrambled tofu (colored with a bit of turmeric, if desired) for a fully vegan meal.
Pasta Carbonara
Ingredients
2 tablespoons olive oil
2 cups Black Forest "Bacon" or Mushroom "Bacon" Bits
1 pound pasta (I use spaghetti)
6-8 eggs (VEGAN: 1 1/2 to 2 cups scrambled tofu)
1/2 cup parmesan (VEGAN: "parmesan" topping*)
Italian seasoning, to taste
House seasoning, to taste
Fresh basil leaves (optional)
*Parmesan Cheese Substitute
1/2 cup cashews
1/2 cup breadcrumbs or crumbled French fried onions (for a tangier cheese)
1/2 cup nutritional yeast
House seasoning, to taste
Italian seasoning, to taste
Blend parmesan cheese ingredients in a food processor until cashews are powdered.
Directions
Chop up 2 cups (about 10-12 strips) of "bacon" and fry in a skillet with a bit of olive oil. Meanwhile, cook pasta. When pasta is done, drain and throw in the skillet. Stir.
Beat eggs and parmesan together in a bowl until smooth. Pour into pan, stirring constantly. Season to taste with Italian and House seasonings. Top with fresh basil, if desired.
The Results
The pasta was excellent! We loved it. Our kids loved it. If we had a dog, they'd probably love it. Seriously though, this is no surprise. I like it much better than the real thing and my husband thinks it's pretty darn good, too. (And he really loves real bacon.)
We were a little overwhelmed with the amount of pepper on the Black Forest Bacon from The Complete Guide to Vegan Substitutions. So I'm working on an adaptation that suits us a bit better and will post it when it's at it's yummiest. The texture is awesome, but the flavor is just too peppery and separated for my liking. I get maple and I get pepper, but not mapley pepper bacon.
This post shared at Fat Camp Friday, Crafty Friday, Friday Favorites, Potluck Friday,·Frugal Fridays, Foodie Fridayand I'm' Lovin' It.
The Super Easy Vegetarian Slow Cooker Cookbook
Want vegetarian and vegan recipes you'll love? Check out my first cookbook! I'm so excited about it and I hope you'll love it. You can find more information about it right
HERE
.