As an Amazon Associate, I earn from qualifying purchases.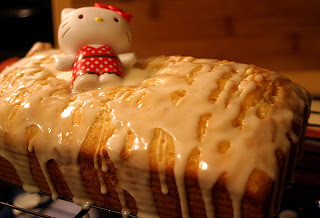 Happy Birthday to Bug! She turned 3 Saturday, but we're celebrating tonight since the poor little Bear wasn't feeling well on her birthday. When I asked her what she wanted for her birthday cake, she requested a lemon cake with Hello Kitty. I saw a pack of Meyer Lemons in the store (which, I've never had, but have heard they're a bit like a cross between a mandarin orange and a lemon) and remembered France's post on Preserving Meyer Lemons. I decided it was some sort of happy food karma in the works that I could make Bug's birthday cake and try this preservation technique from one box of Meyer Lemons. So, I sought out a Meyer Lemon Cake recipe and found this Meyer Lemon Cake recipe on Pinterest from uTry.it.
I kept the recipe primarily the same as the original, opting for organic ingredients where possible, doubling the vanilla and swapping half and half for heavy cream since it's what I keep in the refrigerator.
Meyer Lemon Cake
Adapted slightly from Meyer Lemon Cake.
Ingredients for 1 8-inch loaf cake
For the Cake:
4 ounces (1 stick) unsalted butter, at room temperature
1 cup (organic) sugar
2 large eggs, at room temperature
Zest of 3 Meyer lemons
1 1/2 cups cake flour (I used a substitute of 1 1/2 cups minus 1 1/2 tablespoons flour and 1 1/2 tablespoons cornstarch)
1/4 teaspoon baking powder
1/4 teaspoon baking soda
1/2 teaspoon kosher salt
2 tablespoons Meyer lemon juice
1/4 cup plus 2 tablespoons half and half, at room temperature
 2 teaspoons pure vanilla extract
For the Meyer Lemon Syrup:
1/4 cup (organic) sugar
1/4 cup Meyer lemon juice
For the Meyer Lemon Glaze:

1 cup powdered sugar
2 tablespoons Meyer lemon juice
Directions
Preheat oven to 350. Beat butter and sugar in mixer until creamed. Add eggs one at a time and beat on medium speed. Add lemon zest.
In another medium bowl, whisk together dry ingredients (flour, baking powder, baking soda and kosher salt). In another small bowl, combine 2 tablespoons lemon juice, half and half and vanilla. Add dry ingredients and wet ingredients to mixer, alternately, starting and ending with the dry.
Pour into an 8-inch loaf pan and smooth the batter on top.
Bake at 350 for 40-45 minutes, until toothpick comes out clean.
Meanwhile, mix lemon syrup ingredients in a sauce pan and heat over low until sugar is dissolved. In a bowl, whisk together lemon glaze ingredients until smooth.
When cake is done, cool on rack in pan for 10 minutes. Remove from pan and set on a rack with your serving dish underneath the rack. Poke holes in the cake with a toothpick. Spoon lemon syrup over top of cake and allow to seep into the holes.
Allow cake to cool completely. Drizzle glaze over cake, allowing it to drip over the sides. Plate and serve.
Have leftover Meyer Lemons? Preserve them for up to 6 months, it's incredibly easy!
The Results
It looks beautiful and we'll find out tonight whether it's a hit with the birthday girl. As is the chef's right, I taste-tested the syrup, glaze and batter. All were delicious, so I'm pretty excited about the cake. My cake did fall a bit in the center, but luckily Hello Kitty could "go swimming" in the glaze in that spot and make it look completely intentional. Or at least that's what I'm telling myself. 🙂
This post is shared with Real Food Wednesday, Whole Food Wednesdays, What's Cooking Wednesday, What's on Your Plate?, Let's Do Brunch, Works for me Wednesday, These Chicks Cooked and Bake with Bizzy.
The Super Easy Vegetarian Slow Cooker Cookbook
Want vegetarian and vegan recipes you'll love? Check out my first cookbook! I'm so excited about it and I hope you'll love it. You can find more information about it right
HERE
.