As an Amazon Associate, I earn from qualifying purchases.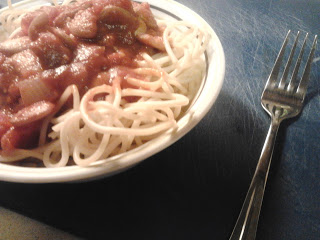 Day 115.
I received Speckled Butterbeans in my CSA box this week and we're having vegan butterbean and tomato ragout.  I'll admit, I've never even heard of speckled butterbeans before today. So, I thought I'd make a tomato and butterbean ragout just sort of on-the-fly for Vegan Monday. I ended up with a tomatoey, almost pasta saucey meal. I dig it.
Also, be sure to check out last week's recipe Palak Paneer Tofu, which is featured today at MeatlessMonday.com.
Butterbean Ragout
Ingredients
2 C speckled butter beans, raw
1 can diced tomatoes
1 can rotel (I used rotel with habaneros)
3 oz. tomato paste
1/4 large onion, diced
3 cloves garlic, minced
House seasoning, to taste
Olive oil
Directions
Brown onions and garlic in olive oil. Add tomatoes, rotel, tomato paste and butterbeans. Add a bit of water, if necessary, to fully cover and cook your beans. Season to taste. Bring to a boil. Reduce heat and simmer for 25 minutes or until beans are cooked through.
Serve over rice or pasta if desired.
The Results
Wow. Seriously delicious. Nice and spicy and super filling. Bonus: ridiculously cheap to make. A definite repeat for a quick and inexpensive family meal.
Now for the link-up rules: post your link to a meatless (vegan or vegetarian, or even an attempted meatless) recipe that you've posted on your blog.
Next week, a reader recipe that was linked up this week will be highlighted on Meatless (Vegan) Mondays. Each week you link up or comment, gives you an opportunity to be featured the following week.
Please join the Meatless (Vegan) Monday link-up. What Vegan or Meatless Monday Meal is your family having today?
This post is shared at·Mouthwatering Mondays, My Meatless Mondays, Cravings, Menu Inspiration Monday, Just Another Meatless Monday,·Happy Homemaker Monday,·Homemaker Monday.·Meatless Mondays,·Mingle Monday, MMMmonday, Mangia Monday,Make a Food-e Friend and Monday Mania.
The Super Easy Vegetarian Slow Cooker Cookbook
Want vegetarian and vegan recipes you'll love? Check out my first cookbook! I'm so excited about it and I hope you'll love it. You can find more information about it right
HERE
.