As an Amazon Associate, I earn from qualifying purchases.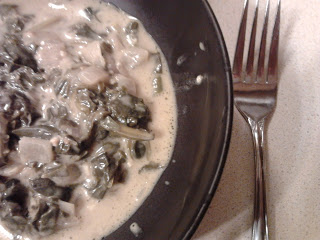 Day 108.
Mmm…palak paneer the creamy cheese is my favorite part, I'll admit it. But the spinach can be super yummy, too. I'm really particular about the spices though and sometimes even the best Indian restaurants have icky-flavored spinach, in my opinion. So, I'll make my own palak paneer tofu for Vegan Monday!
Palak Paneer Tofu
Ingredients
1 bunch spinach, chopped
1 red onion, diced
2-3 cloves garlic, minced
olive oil
1-2 Tbsp. curry (to taste)
2 C veggie broth
1 Tbsp. nutritional yeast
8 oz. paneer (or substitute vegan ricotta or cream cheese)
1 C cubed tofu or other "meat" substitute (maybe "chicken" cubes)
Directions
Coat large saucepan with olive oil. Brown onion and garlic. Add spinach, broth and nutritional yeast and stir. Add spices (feel free to do your curry to taste). Cook until spinach is wilted on medium-low. Add cheese and tofu and stir. Cook until cheese is melted/heated (paneer will stay in cubes, others will get melty).
The Results
Wow! I love it. It's the perfect spice seasoning for my paneer. A definite repeat. And so surprisingly simple
Vegan Monday Link-up, Week 12
To participate this week here on Veggie Converter, you will be able to comment or link your Meatless Monday meals while I post my Meatless Monday challenge to myself, Vegan Mondays. If you're a vegetarian or vegan blogger and would like to be featured for Vegan Mondays, link up, or contact
[email protected]
.·
Mmm…I've never even heard of this casserole. It sounds great!
Now for the link-up rules: post your link to a meatless (vegan or vegetarian, or even an attempted meatless) recipe that you've posted on your blog.
Next week, a reader recipe that was linked up this week will be highlighted on Meatless (Vegan) Mondays. Each week you link up or comment, gives you an opportunity to be featured the following week.
Please join the Meatless (Vegan) Monday link-up. What Vegan or Meatless Monday Meal is your family having today?

This post is shared at·Mouthwatering Mondays, My Meatless Mondays, Cravings, Menu Inspiration Monday, Just Another Meatless Monday,·Happy Homemaker Monday,·Homemaker Monday.·Meatless Mondays,·Mingle Monday, MMMmonday, Mangia Monday,Make a Food-e Friend and Monday Mania.
The Super Easy Vegetarian Slow Cooker Cookbook
Want vegetarian and vegan recipes you'll love? Check out my first cookbook! I'm so excited about it and I hope you'll love it. You can find more information about it right
HERE
.