As an Amazon Associate, I earn from qualifying purchases.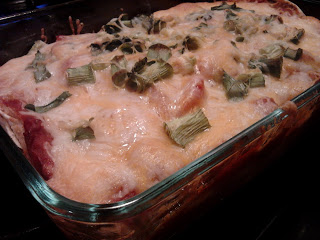 Day 118.
It's leftover day and we're having butterbean ragout tortilla casserole. Hooray! So, I've kinda been making leftovers all week. Hmm….what do I have left that's not already recycled? Butterbean Ragout! That stuff is almost so good I don't want to tinker with it; but alas, there is that possibility that it can be even better. So here we go.
Butterbean Ragout Tortilla Casserole
Ingredients
2 C Butterbean Ragout
1.5 C Mexican cheese, shredded
6 corn tortillas
1/2 C sliced green onions
Directions
Spray 8 x 8 or 9 x 6 baking dish with non-stick spray. Layer 2 corn tortillas on bottom. Top with 1/3 of ragout and 1/2 C of cheese. Repeat for 2 more layers. Add green onions to top. Bake at 400 for 30 minutes.
The Results
Mmm…this is so tasty! I debated about lasagna, but didn't think the Mexican flavors would go as deliciously with the noodles. I love this dish a lot. I'll make it again in the future. This ragout was a total "ooh, let's put this in" kind of create-a-recipe, so I'm super excited that the original and the leftover creation from it turned out so well.
Project Food Budget:
$8 on milk is all we spent this week. Wow! We were broke, again. Sigh. Babies are expensive I tell you.
Goal: $75/$300
Actual: $8/$246
Hooray! Under budget for April!
Participating Blogs:
This post is shared with Simple Lives Thursday, Tip Day Thursday, Frugal Food Thursday, Recipe Swap Thursday,Recipes I Can't Wait to Try, Things I Love Thursday, It's a Keeper, Full Plate Thursday, Grocery Cart Challenge, Cooking Thursday and Ultimate Recipe Swap.
The Super Easy Vegetarian Slow Cooker Cookbook
Want vegetarian and vegan recipes you'll love? Check out my first cookbook! I'm so excited about it and I hope you'll love it. You can find more information about it right
HERE
.