As an Amazon Associate, I earn from qualifying purchases.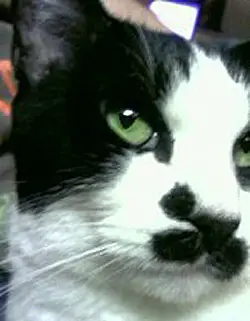 I'm a cat person. I'm such a cat person that, even after discovering a moderate cat allergy in my late 20s, I still keep cats in my home. What can I say? Groucho was my first baby and I couldn't possibly give her up just to be drug-free and rid of itchy eyes and runny nose. She's my girl. I've known her longer than my husband, and of course, my two little girls. We've been through a lot together. And it's not a relationship I'm willing to sacrifice.
The story of how we met is a doozy. I had some great friends in college. Friends so awesome that, even though I was a total jerk sometimes and a bit crazy after a traumatic event, they still loved me. They loved me so much, in fact, that they wanted me to stay sane. They thought caring for a fluffy kitten would help me get over what happened in my life. They couldn't have been more right.
So, my friends got me the best gift card, ever. A gift card for the adoption of a cat from the Columbia, Mo., Humane Society. Awesome, right? Within the week (near my birthday in December), I went to pick out my pretty new companion.
I looked at several fluffy kitties and adult cats. But one just spoke to me. A shy little black and white female short hair with the most ridiculous face. A face no one could take seriously. Because she had a mustache. How adorable is that? I've since discovered there are entire websites dedicated to cats with these silly faces, often called "Hitler cats," but I prefer to refer to mine as Chaplin or, well, what I eventually named my little fuzzball–Groucho. Yes, Groucho is a girl, and yes, I get that it's confusing. But it just fit her. Chaplin seemed too haughty.
Groucho and I took care of each other those first few years. She saw me through bad boyfriends and difficulties in getting along on my own in college. Through my first and last job in the "real world," through marriage and the birth of two beautiful little girls (who she tried to push out several times…headbutting the pregnant belly and shoving the newborns included). She's been with me through good and bad and I don't ever want to think about the day that I'll have to go on without her. I know that day will come, but I hesitate to even consider it because she's been such an important part of my life.
Love you, Grouchita.

The Real Stories Project is an app that collects the real stories of cat people everywhere.  Cats are special to each of us – this is our way of celebrating how much of a role they play in our lives, all the memories we have had together, and the fact that they are always there for us, no matter what. This experience lives on yourcatstory.com, catchow.com, facebook.com/purinacatchow, and youtube.com/purinacatchow. 
Enter a story during June and July and participants have an opportunity to win $5,000 and a one-year supply of Purina Cat Chow.
Disclosure: Compensation was provided by Purina Cat Chow via Glam Media.  The opinions expressed herein are those of the author and are not indicative of the opinions or positions of Purina Cat Chow.
The Super Easy Vegetarian Slow Cooker Cookbook
Want vegetarian and vegan recipes you'll love? Check out my first cookbook! I'm so excited about it and I hope you'll love it. You can find more information about it right
HERE
.