As an Amazon Associate, I earn from qualifying purchases.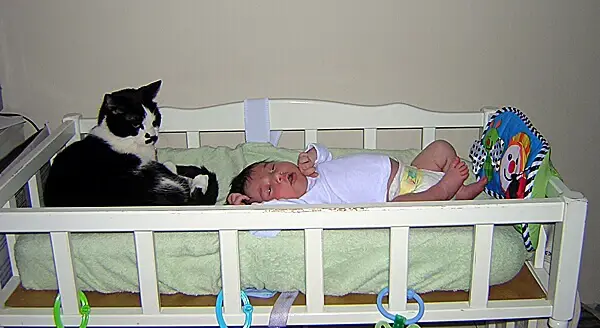 I've had my baby Groucho since my junior year of college. It was just us girls for a long while. Then she graciously allowed my husband, Mr. Meaty, to join us. She actually took to him quite well, which shocked me since she hates most people. Groucho's acceptance of him was actually a big plus for Mr. Meaty.
But, a few years later, when I became pregnant with little Bug, Grouch was not so pleased. My lap was rapidly shrinking! Where was Groucho supposed to sleep? So, she headbutted and body-slammed, trying in vain to make that baby bump recede. Of course, that didn't work out. And, a few months later Grouchie's baby sister arrived.
At first, Groucho was just excited to have us, and most of my lap, back home after five days away at the hospital. But then she saw the bassinet. And heard the tiny sounds coming from it. She just had to get a look at whatever was making that noise. So she stretched out on her hind legs and poked her little mustached nose over the side of the bassinet. There she found her baby sister, Bug. She fell in love that day and stayed rather affectionate. At least until baby sister became mobile. Now that Bug is old enough to calmly pet Groucho (and give her treats), they're chummy again.
Thank you Groucho for accepting the new members of our little family.


The Real Stories Project is an app that collects the real stories of cat people everywhere.  Cats are special to each of us – this is our way of celebrating how much of a role they play in our lives, all the memories we have had together, and the fact that they are always there for us, no matter what. This experience lives on yourcatstory.com, catchow.com, facebook.com/purinacatchow, and youtube.com/purinacatchow. 
Enter a story during June and July and participants have an opportunity to win $5,000 and a one-year supply of Purina Cat Chow.
Disclosure: Compensation was provided by Purina Cat Chow via Glam Media.  The opinions expressed herein are those of the author and are not indicative of the opinions or positions of Purina Cat Chow.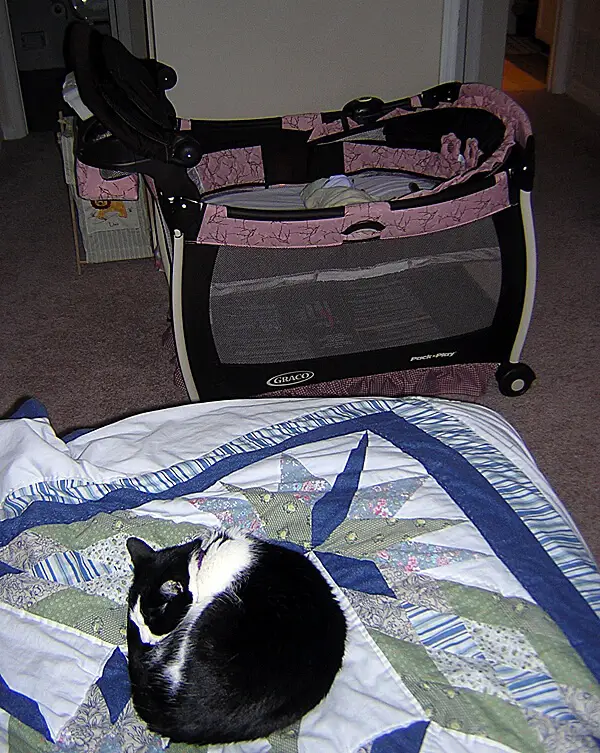 The Super Easy Vegetarian Slow Cooker Cookbook
Want vegetarian and vegan recipes you'll love? Check out my first cookbook! I'm so excited about it and I hope you'll love it. You can find more information about it right
HERE
.