As an Amazon Associate, I earn from qualifying purchases.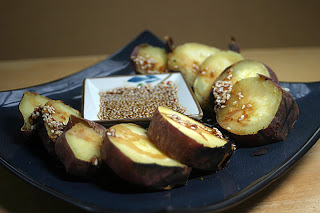 Day 355.
It's going quickly now…only 10 days to go after today. Today's recipe came by happenstance when a friend of my husband's asked whether he likes sweet potatoes. For the record, he does not (the girls and I like them). His friend not only mentioned how my husband might like Korean sweet potatoes better due to the fact that they are firmer and less sweet, but he also went out to the Asian market and picked up a couple of Korean sweet potatoes for him to try. How cool is that? His friend said he usually just has them steamed, which sounds great. But after a bit of googling, I decided to try this simple grilled sweet potato recipe (intended for traditional sweet potatoes) and it's accompanying Korean-style dipping sauce. Yum. We don't have a standard grill, so I create a little contraption with our stove-top grill and a baking pan to simulate the covered grill (much like I do with roasted corn).
Grilled Korean Sweet Potatoes
Adapted from Grilled Sweet Potatoes with Korean-Style Dipping Sauce.
Ingredients for 2 servings
2 small Korean sweet potatoes, washed and pierced with a fork
Dipping sauce:
2 1/2 tablespoons soy sauce (I use Bragg's liquid aminos)
1/2 tablespoon rice vinegar
1 tablespoon brown sugar (optional)
1/2 tablespoon dry minced onion
1/2 teaspoon minced garlic
1 tablespoon sesame seeds
Directions
Grill sweet potatoes whole on an oiled grill over medium-high heat, covered, for 30-35 minutes, flipping at least once. With about 10 minutes left on your grill time, add about 1/2 cup of water to the grill and recover. Potatoes are done when tender, but not mushy.
Meanwhile, whisk together dipping sauce ingredients in a small bowl until sugar is fully dissolve. Slice hot sweet potatoes and serve dipping sauce alongside.
The Results
Oh my goodness, Korean sweet potatoes are incredible. My husband liked them a lot (which is huge since he dislikes the traditional sweet potatoes) and I actually liked them better than the traditional variety. They're almost like a cross between a golden potato and a sweet potato. I have a feeling they would hold up much better cubed in slow cooker recipes (which is the one of the ways I don't like regular sweet potatoes) and are just delicious without any sauce. But the sauce also turned out fantastically. I made several substitutions due to a lack of sake and green onion, but I really love the way the sauce turned out and I'd make it the same way again. We'll definitely be having Korean sweet potatoes again.
This post is shared with Real Food Wednesday, Recipes I Can't Wait to Try, What's Cooking Wednesday, What's on Your Plate?, What's on the Menu Wednesday, Let's Do Brunch, Works for me Wednesday, These Chicks Cooked, Recipe Link Party, Foodie Wednesday and Bake with Bizzy.
The Super Easy Vegetarian Slow Cooker Cookbook
Want vegetarian and vegan recipes you'll love? Check out my first cookbook! I'm so excited about it and I hope you'll love it. You can find more information about it right
HERE
.