As an Amazon Associate, I earn from qualifying purchases.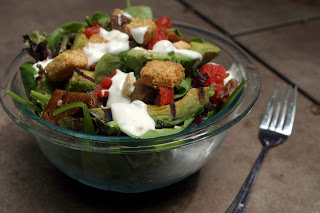 Day 198.
I have a yummy salad again today with Grilled Avocado BLT Salad.
I made this delicious salad with the Grilled Avocado, vegan bacon and some homemade Avocado-Ranch dressing.
Grilled Avocado BLT Salad
Ingredients
2 avocados, halved and pitted
Lime Juice
Kosher Salt
16 ounces Baby Greens Salad blend
2 Fresh Tomatoes, diced (or 15 ounces diced tomatoes, drained)
8 slices Bacon, cooked and chopped (I used vegan bacon)
1 cup Croutons
Avocado Ranch Dressing
1 Avocado, halved and pitted
1/4 cup Milk
3/4 cup Sour Cream
1/2 teaspoon Black Pepper
1/2 teaspoon Garlic Powder
2 tablespoons Lime Juice
1 tablespoon Buttermilk
1 1/2 teaspoons Vinegar
1/8 teaspoon Salt
1/8 teaspoon Parsley
1/8 teaspoon Dill Weed
1/8 teaspoon Onion Powder
Directions:
Sprinkle lime juice and kosher salt on cut-side of the 3 avocados. Grill the avocados for topping and salad face-down for 3-5 minutes. Set one avocado aside for dressing. Slice the other two and set aside for topping. Mash 1 avocado for dressing. Mix all other dressing ingredients in a medium bowl. Top salad greens with sliced avocado, tomatoes, bacon, croutons and dressing.
Servings: 4
The Results
Yum. This was fantastic. Bug loved this also. She ate hers kind of oddly, preferring to dip her lettuce into the dressing instead of eating it all together. But hey, she ate it. Win. Goose enjoyed her diced avocado.
What are you having for Sunday Brunch, Breakfast or Lunch?
This post is shared at Penny Worthy Project, Cookbook Sundays, Savory Sunday·and·Potluck Sunday.
The Super Easy Vegetarian Slow Cooker Cookbook
Want vegetarian and vegan recipes you'll love? Check out my first cookbook! I'm so excited about it and I hope you'll love it. You can find more information about it right
HERE
.