As an Amazon Associate, I earn from qualifying purchases.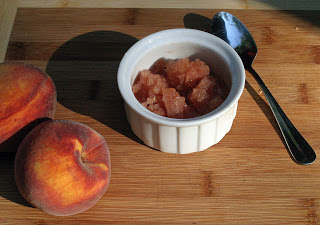 Day 258.
I'm making  Toddler Teething Frozen Fruit Cups, which I finally broke down and made at home for our teething toddlers after spending far too much money buying all-natural fruit freezer pops at the store. The inspiration for this recipe is two-fold.  Yogurt tubes would be the perfect technique to make freezer pops at home.
But my kids are too young to really eat the pops directly from the tube. So, we crush their pops up in a bowl anyway. Then I saw this pin on Pinterest about freezing muffin tins full of soup. The poster plunks a couple of muffin cups into a mug or bowl, reheats and eats. It's the perfect way to create individual toddler-size servings, too! So, my first experiment with muffin-sized freezer servings are these delicious frozen fruit slushes.

Toddler Teething Frozen Fruit Cups
Ingredients
4 ⅛ cups peaches, peeled and diced
¾ cups apples, peeled and diced
2 cups pineapple chunks, canned
2 cups cranberry juice
Method
Freeze in 1/4 cup portions in a silicone muffin pan.
The Results
Be sure to make extra servings for Mommy and Daddy. These are fantastic. And, it's a great way to use up fruit that's on its last leg. I used last week's peaches from my CSA box, an apple and a leftover can of pineapple. Delicious.
This post is shared with Simple Lives Thursday, Tip Day Thursday, Frugal Food Thursday, Recipe Swap Thursday,Recipes I Can't Wait to Try, Things I Love Thursday, It's a Keeper, Full Plate Thursday, and Ultimate Recipe Swap.
The Super Easy Vegetarian Slow Cooker Cookbook
Want vegetarian and vegan recipes you'll love? Check out my first cookbook! I'm so excited about it and I hope you'll love it. You can find more information about it right
HERE
.