As an Amazon Associate, I earn from qualifying purchases.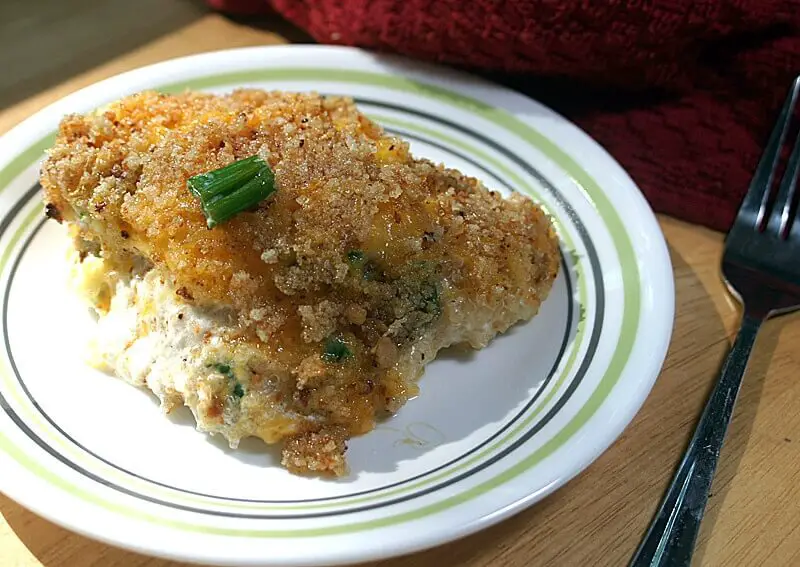 With the exception of our weirdo 3-year-old, this family loves cheesy potatoes. (Bug hates all potatoes except french fries…strange.) So, when I saw this Fresno Potatoes recipe from Alaska from Scratch on ZipList, I made it right away. I'm so glad I did. This recipe is awesome. The major change I made is the "bacon," for which I swapped in my new favorite, Bacony Quinoa.
Fresno Potatoes
Ingredients
4-6 medium sized Yukon Gold potatoes
1 1/2 cups bacony quinoa
6 green onions, thinly sliced
1 cup milk
1-1/2 cup yogurt or sour cream
2 Tablespoons flour
2 cups shredded cheddar cheese
salt and pepper to taste
1/4 cup breadcrumbs
5 Tablespoons butter, melted
Instructions
Bake or boil potatoes, until fork tender.
Preheat oven to 350.
In a greased 9 x 13 dish, layer half of potato slices, then top with half the bacony quinoa and onions.
Whisk milk into sour cream and flour until smooth. Season with salt and pepper. Spread half the mixture over the potato layer and then sprinkle with half the cheese. Season with salt and pepper. Repeat layers.
Sprinkle breadcrumbs over top and drizzle butter over all. Bake uncovered for 30 minutes until golden and bubbly. Serve hot.
 Adapted from Fresno Potatoes, Alaska from Scratch
Recipe Source: VeggieConverter.com
The Results
Wowza. Fantastic. Even Bug ate a few bites of this one before realizing it was full of potatoes. Lol.
This post is shared with Real Food Wednesday, Whole Food Wednesdays, What's Cooking Wednesday, Works for me Wednesday, These Chicks Cooked, Bake with Bizzy, Hearth and Soul Hop, Simple Lives Thursday, Frugal Food Thursday, It's a Keeper, Full Plate Thursday, Tastetastic Thursday and Ultimate Recipe Swap.
The Super Easy Vegetarian Slow Cooker Cookbook
Want vegetarian and vegan recipes you'll love? Check out my first cookbook! I'm so excited about it and I hope you'll love it. You can find more information about it right
HERE
.