As an Amazon Associate, I earn from qualifying purchases.
Day 122.
Today is a very exciting day. My first vegetarian freezer meal guest post is up. Hooray! So, for my recipe today, it's Fire Roasted Vegetable Pasta, an old favorite I recreated from a restaurant in the Kansas City Plaza, the Canyon Cafe. 
Sumptuous roast vegetables mingle with tender strands of pasta in this inspired vegetarian dish.
Fire Roasted Vegetable Pasta
Ingredients
2 cups slice Bell Pepper, Red
2 cups slice Bell Pepper, Green
2 cups slice Bell Pepper, Yellow
7 cups dice Asparagus
30 ounces Diced Tomatoes, Fire Roasted
1 cup slice Mushroom, Portobello
8 teaspoons Kosher Salt
2 teaspoons Black Pepper
2 teaspoons Garlic Powder
1 tablespoon Olive Oil #1
16 ounces Spaghetti, Whole Wheat
½ cups Balsamic Vinegar
½ cups Tomato Juice
1 tablespoon Olive Oil #2
1 ¼ cups dice Onion, Red
6 teaspoons mince Garlic, Cloves
4 tablespoons Italian Seasoning
2 tablespoons Molasses
1 tablespoon Olive Oil #3
The Results
This is seriously good. I think I did a bang-up job on the recreation of this recipe. If anyone has ever been to a Canyon Cafe (I'm not sure if there was more than one) let me know what you think. Otherwise, just enjoy. It's not a flavor combination I would've thought up on my own. I don't see many vinegar and tomato sauces out there. But it is fantastic.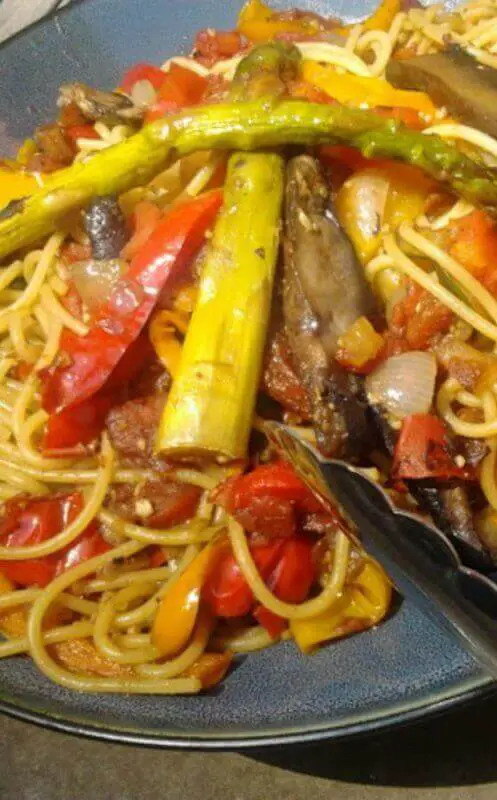 Now for the link-up rules: post your link to a meatless (vegan or vegetarian, or even an attempted meatless) recipe that you've posted on your blog.
Next week, a reader recipe that was linked up this week will be highlighted on Meatless (Vegan) Mondays. Each week you link up or comment, gives you an opportunity to be featured the following week.
Please join the Meatless (Vegan) Monday link-up. What Vegan or Meatless Monday Meal is your family having today?
This post is shared at·Mouthwatering Mondays, My Meatless Mondays, Cravings, Menu Inspiration Monday, Just Another Meatless Monday,·Happy Homemaker Monday,·Homemaker Monday.·Meatless Mondays,·Mingle Monday, MMMmonday, Mangia Monday,Make a Food-e Friend and Monday Mania.
The Super Easy Vegetarian Slow Cooker Cookbook
Want vegetarian and vegan recipes you'll love? Check out my first cookbook! I'm so excited about it and I hope you'll love it. You can find more information about it right
HERE
.