As an Amazon Associate, I earn from qualifying purchases.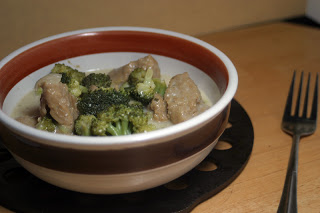 Day 285.
As you've seen in previous posts, my daughter's new favorite food is broccoli. So, sometimes when we go out for Chinese food Bug (who is seeming to take after me) and Goose (who must take after Daddy) share an order of Chicken and Broccoli. Before Goose was old enough to share, Bug would just eat all of the broccoli out of hers and leave the chicken for her dad to eat along with his leftovers. So, of course, I thought, maybe I could make it at home and they'd both eat all of it. And, bonus, I could try it, too! I found this simple, "weeknight" Chicken and Broccoli dish. It's not Asian, but a simple, slightly creamy chicken and broccoli.
I used seitan for the chicken and subbed in dairy-free butter, and dairy-free sour cream for the creme fraiche. Yogurt could also work, but I'd suggest adding a bit of sugar to cut the tartness of the yogurt. I also swapped in Easy Slow Cooker Vegetable Broth for the chicken broth and apple juice for the wine. I know they say most of the alcohol cooks out, but I'm just not comfortable using it for dishes my toddlers will likely devour.
Easy Chicken and Broccoli
Adapted from Weeknight Chicken and Broccoli.
Ingredients
1 tablespoon

butter

1 teaspoon

garlic

, minced
8 ounces seitan, cubed
8 ounces broccoli, chopped (about 1 small head)

1/2 cup

apple juice

1 bunch

basil

, chopped (about 2 tablespoon)

1

green onion

, chopped

1 tablespoon

cornstarch

1/2 cup sour cream

 

 

Salt and pepper

, to taste
quinoa or rice, to serve
Directions
Into a large pan, add the butter and melt on medium heat.Add in the garlic and allow it to cook up for a minute or two. Add the seitan and a pinch of salt and pepper. Cook for a minute or two and add broccoli.  Cook for about 5 more minutes, stirring occasionally.
Add the apple juice, veggie broth, basil and green onion. Turn the heat up to medium-high. Mix together the cornstarch and a teaspoon of water to make a slurry and add the liquid to the pan. Bring to a quick boil and allow the mixture to thicken.
Remove from heat and stir in the sour cream. Serve over quinoa or rice.
The Results
This was so incredibly easy. I think it took about 12 minutes total since I had chopped my broccoli the day before. The kids and adults both loved it. The big kids added a bit of crushed red pepper to spice ours up.I like how it's creamy, but not so creamy it's thick and gummy. Delicious.
This post is shared with Real Food Wednesday, Recipes I Can't Wait to Try, What's Cooking Wednesday, What's on Your Plate?, What's on the Menu Wednesday, Let's Do Brunch, Works for me Wednesday, These Chicks Cooked, Recipe Link Party, Foodie Wednesday, Cast Party Wednesday and Bake with Bizzy.
The Super Easy Vegetarian Slow Cooker Cookbook
Want vegetarian and vegan recipes you'll love? Check out my first cookbook! I'm so excited about it and I hope you'll love it. You can find more information about it right
HERE
.