As an Amazon Associate, I earn from qualifying purchases.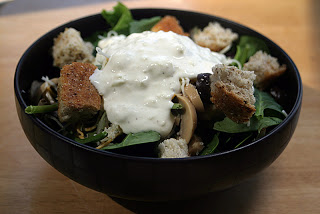 My neighbor saw my post on Bleu Cheese Dressing a couple months back (you may recall, the one I really liked but my husband didn't…necessitating that I finish off both pints all by myself…sigh). Seeing that the whole family wasn't completely enamored with it, she shared her favorite bleu cheese dressing recipe.
I tried it not long after and have fallen completely in love with it. Our bleu cheese-loving family enjoys it and we've made it multiple times since that first try.
I've tinkered with it yet again this week (while away at my mom's house) and snuck in homemade yogurt in place of the sour cream. I'm hoping Mr. Meaty likes the new version when I make it again at home. I think it tastes remarkably similar. Now I just need someone to talk me through my fear of homemade mayonnaise. I'm just a little skittish about the raw eggs. I. Can. Do. This. Have you made homemade mayo? Help me get over my fear, will ya?
Creamy Bleu Cheese Dressing
Adapted from Rich and Creamy Blue Cheese Dressing.
Ingredients
2 1/2 ounces bleu cheese
3 tablespoons yogurt whey (or mock buttermilk, whole milk plus a teaspoon of lemon juice)
3 tablespoons yogurt or sour cream
2 tablespoons mayonnaise
2 teaspoons vinegar
1/4 teaspoon honey
1/4 teaspoon House seasoning 
Method
Mash bleu cheese and whey (or buttermilk) with a fork until it's about the consistency of ricotta cheese. Stir in remaining ingredients until well blended.
The Results
Drool. This is perfect for salads and for dipping. I'm completely in love with it and even the kids are crazy for it. Once we get home we'll have to test it out the yogurty version on Mr. Meaty.
This post is shared with Real Food Wednesday, Whole Food Wednesdays, What's Cooking Wednesday, Works for me Wednesday and These Chicks Cooked.
The Super Easy Vegetarian Slow Cooker Cookbook
Want vegetarian and vegan recipes you'll love? Check out my first cookbook! I'm so excited about it and I hope you'll love it. You can find more information about it right
HERE
.