As an Amazon Associate, I earn from qualifying purchases.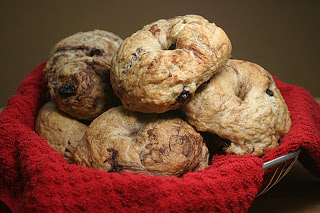 I've made bagels several times previously, including the delicious but somewhat tedious Sourdough Bagels and the incredibly easy, but not quite as pretty Homemade Bagels that I made into Bagel Egg and Cheese Sandwiches. But we've still been known to buy store-bought bagels pretty frequently since the kids are bagel fanatics. Now that we're trying to Get Real, we need to get serious about this bagel thing.
The kids' favorite flavor is blueberry, but cinnamon raisin is a close second and not quite as daunting. I'm hoping to try dried blueberries in the same recipe soon to see how that goes. I don't keep bread flour on-hand, so I used a combination of unbleached all-purpose flour and vital wheat gluten, but the recipe can be made with 4 1/4 cups of bread flour instead of the combination listed.
This is the first bagel recipe I've tried that uses the poke-the-hole-in-the-center method, instead of the rolled cylinder of dough that you wrap around your hand. It certainly seems a lot simpler to poke the hole, but I'm not sure how the texture will vary. Bug and I made these together and she had a ton of fun with this method, so that's a factor, too.
Cinnamon Raisin Bagels
Ingredients for 8-12 bagels
Bagel Dough:
1 1/2 cups warm water
2 tablespoons yeast
1 tablespoon pure maple syrup
1 tablespoon salt
4 cups flour
1/4 cup vital wheat gluten
Mix-ins:
1/2 cup raisins
2 teaspoons cinnamon
Boiling Water:
8 cups water
1 tablespoon baking soda
Directions
In a small bowl, mix together warm water, yeast, and maple syrup and let sit until foamy. Meanwhile in a large mixer bowl, mix 2 cups of flour, salt, and vital wheat gluten. Add the yeast mix to the bowl. Slowly stir in the remaining 2 cups of flour.
Knead the dough for 5 minutes on a floured surface. Place in a greased bowl, cover and let rise until doubled (30-45 minutes).
Punch dough down, mix in cinnamon and raisins by kneading into the dough just until swirled throughout. I found this a little bit difficult with the raisins and may rinse the raisins first next time in order to make them stick in the dough more readily. I also lost a few to the boiling process, so the raisins are a work in progress.
Divide into 8-12 bagel balls, depending on the desired size (I went with 8 for the standard bagel size). Let dough balls rest for 5 minutes.
Preheat oven to 350F. Boil water and baking soda. Meanwhile, place bagels on greased cookie sheets. Poke holes through the center of the bagel balls and stretch the holes to about 2 inches in diameter. Cover and let rest for 10 minutes.
Drop bagels into boiling water (2-3 at a time, depending upon the circumference of your boiling pot and the size of your bagels) for 45 seconds, flipping once. Drain on a wire rack with a towel underneath. Once drained, place bagels back on your greased baking sheets.
Bake at 350F for 35 minutes, rotating pan(s) once halfway through baking.
The Results
The bagels are nice and yeasty but not overwhelmingly so and the kids love the cinnamon raisin flavor. The process was really simple and I'll definitely continue to experiment with this recipe. The texture turned out very good, but the holes don't survive quite as well as they do with the rolled cylinder technique for bagels. That actually makes it easier to spread cream cheese inside the bagel, but if you're a bagel purist, the rolled method is a tad more effort but more effective.
This post is shared with
Real Food Wednesday
,
Whole Food Wednesdays
,
Recipes I Can't Wait to Try
,
What's Cooking Wednesday
,
What's on Your Plate?
,
What's on the Menu Wednesday
,
Let's Do Brunch
,
Works for me Wednesday
,
These Chicks Cooked
,
Recipe Link Party
,
Foodie Wednesday
and
Bake with Bizzy
.
The Super Easy Vegetarian Slow Cooker Cookbook
Want vegetarian and vegan recipes you'll love? Check out my first cookbook! I'm so excited about it and I hope you'll love it. You can find more information about it right
HERE
.