As an Amazon Associate, I earn from qualifying purchases.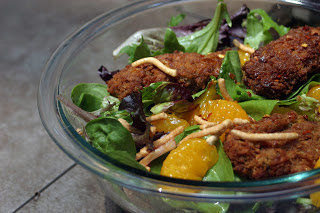 Day 199.
It's so simple to pull out of your freezer and top individual salads. Yum.
Chickpea Tender Mandarin Asian Salad Fix'ns
Ingredients
15 ounces rinse and drain Garbanzo Beans (Chick Peas), Canned
1 tablespoon Poultry Seasoning
½ cups Vital Wheat Gluten
½ cups Bread Crumbs
¼ teaspoons Salt
¼ teaspoons Black Pepper
11 ounces Mandarin Oranges, Canned
¼ cups Vegetable Oil #1
2 tablespoons White Wine Vinegar
1 tablespoon Soy Sauce
½ teaspoons Sesame Oil
¼ teaspoons Red Pepper Flakes
½ cups Vegetable Oil #2
4 cups Lettuce, Salad Mix
½ cups Crispy Chow Mein Noodles
The Results
I love these chickpea tenders and the sesame dressing is fantastic. The kids loved all the toppings.
To participate this week here on Veggie Converter, you will be able to comment or link your Meatless Monday meals while I post my Meatless Monday challenge to myself, Vegan Mondays. If you're a vegetarian or vegan blogger and would like to be featured for Vegan Mondays, link up, or contact
[email protected]
.·
Now for the link-up rules: post your link to a meatless (vegan or vegetarian, or even an attempted meatless) recipe that you've posted on your blog.