As an Amazon Associate, I earn from qualifying purchases.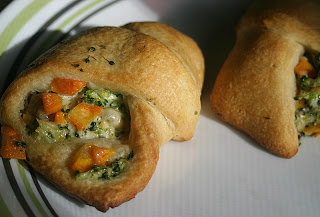 Day 312.
I think my kids like just about anything "in a blanket" (wrapped in a crescent roll) and also have an undying love of broccoli. So, while Pam uses her recipe to sneak in broccoli, I'm using her fantastic roll-ups idea to bring a yummy well-balanced meal to my broccoli lovers (who would just as happily eat their broccoli raw by itself.) I doubled the broccoli and subbed in half the amount chickpeas for the chicken.
Chickpea Broccoli Roll-ups
Ingredients
1/2 cup chickpeas
1 cup broccoli florets, finely chopped
1/2 cup carrots, finely chopped
1/4 cup mayo
2 cloves garlic, minced
1/2 teaspoon Italian seasoning
1 dash Spike seasoning (optional)
1 package (8) refrigerated crescent rolls
Directions
Preheat oven to 375.
In a bowl, mix chickpeas, veggies, mayo, garlic, and seasonings. Unroll crescent rolls. Place a large spoonful of chickpea mixture on top of each piece of dough and roll. (I found it easiest to roll the ends over the middle, instead of the usual way to roll a crescent roll.)
Bake on a cookie sheet at 375 for 12-15 minutes or until rolls are golden brown.

The Results
The kids went crazy for these. I'll be honest, I couldn't taste it very well (still fighting that cold). But from the kids' reactions, I'd say this is a definite repeat.
This post is shared at·Tuesdays at the Table, Tuesday Night Supper Club,·Slightly Indulgent Tuesday,·Tempt My Tummy Tuesday,·Delicious Dishes,·Real Food Wednesday, Recipe of the Week, Hearth and Soul,Tutorial Tuesday, Tasty Tuesday and Tasty Tuesday.
The Super Easy Vegetarian Slow Cooker Cookbook
Want vegetarian and vegan recipes you'll love? Check out my first cookbook! I'm so excited about it and I hope you'll love it. You can find more information about it right
HERE
.