As an Amazon Associate, I earn from qualifying purchases.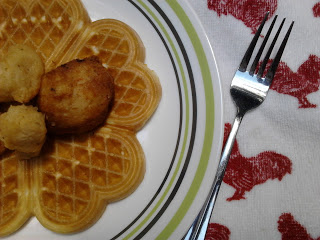 Day 139.
I know what some of ya'll (Southernese reference intended) are thinkin': Chicken, with waffles? Ew. As a born and bred Yankee who was transplanted to the South via Military parents, I get it. It sounds ew to me, too. That is, it sounded ew until I tasted it. I was watching something recently with Duff from Ace of Cakes and I think he put it best when he referred to this as a beautiful union of sweet and spicy. The hot sauce on the chicken and the real maple syrup bring out something delicious in the chicken that I don't truly understand. But I dig it. I dig it so much I want multiple plates of it.
For this leftover creation, I originally used the chicken from Sweet and Sour Chicken. Tip: When I ran out of that chicken, I pressed together Northern Beans (with a bit of Spike seasoning mixed in) into small quarter-diameter balls and battered and fried those. They were nearly as good as the chicken and can be homemade from Whole Foods (bonus). You can also use Chickpea Nuggets. 
Vegan Chicken and Waffles
Ingredients
Waffles (use your favorite recipe; I use Bisquick)
Chickpea Nuggets 
Buffalo sauce (hot sauce and butter, melted)
Real maple syrup or honey
Method
Top chicken with a bit of buffalo sauce. Place chicken on waffle. Top with maple syrup. If you're scared, put the sauces on the side and ease into the combination. I promise you won't be sorry. Try it in stages. Waffles with chicken. Waffles with chicken and hot sauce. Waffles with chicken, hot sauce and syrup or honey, oh my!
The Results
So incredibly delicious. It still boggles my mind. But I mean, I like sweet and sour sauce, so why shouldn't I like this? It's almost like sweet and sour chicken, on a waffle, but different…homier. Mmm…can't talk more, mouth is full.
What's your favorite "weird" combination?
Project Food Budget:
This week I splurged on extras (honey and milk) from our CSA and spent $61 there, plus $53 from Kroger. That brings our weekly total to $114 and our monthly total to $244. We're under budget, barely, for the month. With 12 days to go, this could get tricky.
Goal: $75/$300
Actual: $114/$244
Participating Blogs:
This post is shared with Simple Lives Thursday, Tip Day Thursday, Frugal Food Thursday, Recipe Swap Thursday,Recipes I Can't Wait to Try, Things I Love Thursday, It's a Keeper, Full Plate Thursday, Grocery Cart Challenge, Cooking Thursday and Ultimate Recipe Swap.
The Super Easy Vegetarian Slow Cooker Cookbook
Want vegetarian and vegan recipes you'll love? Check out my first cookbook! I'm so excited about it and I hope you'll love it. You can find more information about it right
HERE
.