As an Amazon Associate, I earn from qualifying purchases.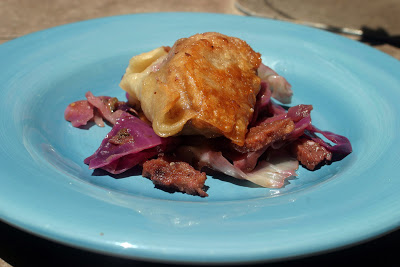 Day 211.
I'm pretty much convinced that anything edible stuffed inside a wonton dumpling is going to be delicious ever since trying Squash Wontons. So, of course, I decided to make more. I received a beautiful red cabbage in my CSA box, as well as the now somewhat regularly-appearing zucchini. I had about 1/2 a head of green cabbage leftover from my Butternut Squash Thai Noodles, so I threw that in, too. Yum.
Cabbage and Zucchini Dumplings
Ingredients
olive oil
1/2 onion, chopped
6 cloves garlic, minced
2 cups (1 large) zucchini, shredded
1 small red cabbage, chopped finely or shredded
1/2 medium green cabbage, chopped finely or shredded
1 cup water
1/2 cup balsamic vinegar
salt and pepper, to taste
1 cup Black Forest Bacon Strips, crumbled or Mushroom Bacon Bits
2 batches (about 50-60) Wonton Wrappers
soy sauce and sesame seeds (optional), for dipping
Directions
Put a bit of olive oil, onion and garlic in large saucepan. Brown onions and garlic. Add zucchini, cabbages and cover with water and vinegar. Add salt and pepper to taste. I didn't add any, thinking ahead to the soy sauce dip. Bring to a boil and turn heat down to low. Simmer 20 minutes. Meanwhile, make your wonton wrappers.
Stir "bacon" into filling. Fill wontons, making triangles or rectangles, as desired. Freeze dumplings for about 15 minutes, until firm. Fill a skillet with 1-2 tablespoons olive oil. When heated, add wontons. Fry for about 3 minutes, shaking pan regular to keep wontons loosened from bottom. If necessary, break wontons free after frying. Carefully add about 1/2 cup of water and cover. Steam for about 5 minutes.
Serve with soy sauce mixed with sesame seeds for dipping.
The Results
Hypothesis proven. Anything good is even better inside a dumpling. These are fantastic.
This post is shared with What's for Lunch Wednesday , Simply Delish and Muffin Tin Monday.
The Super Easy Vegetarian Slow Cooker Cookbook
Want vegetarian and vegan recipes you'll love? Check out my first cookbook! I'm so excited about it and I hope you'll love it. You can find more information about it right
HERE
.