As an Amazon Associate, I earn from qualifying purchases.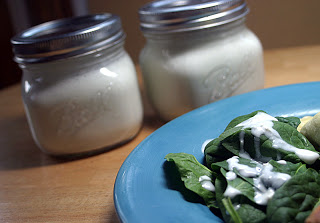 As part of my personal Get Real experience, I knew I needed to make homemade salad dressings as I run out of the bottled variety. I've been on a bit of a Poppyseed Dressing kick lately and was already out of bleu cheese dressing (one of my favorites) when I visited France's blog for Whole Food Wednesday last week.
If you haven't seen France's incredible blog, Beyond the Peel, you need to go check it out. She has an abundance of amazingly creative (and whole food) recipes made from simple, seasonal ingredients. I love her blog and she's a very sweet person, too. Her post and her simple bleu cheese recipe inspired me to get off my duff and get the dressing made. And I'm glad I did.
Bleu Cheese Dressing
Slightly adapted from Bleu Cheese Dressing.
Ingredients
1 cup crumbled bleu cheese
1 cup yogurt, whole milk organic (or France's original: sour cream)
1/4 cup lemon juice
up to 1/2 cup water
Directions
Place all ingredients, except water, in a blender or food processor and pulse lightly to mix. Add water to reach desired consistency. Pour into a container (I put it in canning jars in my refrigerator) and drizzle over dressing or use as a dip.
The Results
I absolutely love the flavor of this dressing. My husband didn't care much for the yogurt flavor and said he'd prefer the sour cream version (which we plan to try next), but I thought it was perfect with the yogurt. The only change I would make in the future is to not add the entire 1/2 cup of water (yogurt is a bit runnier than sour cream, so this might be the culprit here) and instead add the water through the pour chute of my food processor until it's the level of creaminess I like.
This post shared at Gallery of Favorites, Fresh Bites Friday, Friday Favorites, Potluck Friday,·Frugal Fridays ,I'm Lovin' It, Simple Lives Thursday, Frugal Food Thursday, Things I Love Thursday, It's a Keeper, Full Plate Thursday, Tastetastic Thursday and Ultimate Recipe Swap.
The Super Easy Vegetarian Slow Cooker Cookbook
Want vegetarian and vegan recipes you'll love? Check out my first cookbook! I'm so excited about it and I hope you'll love it. You can find more information about it right
HERE
.