As an Amazon Associate, I earn from qualifying purchases.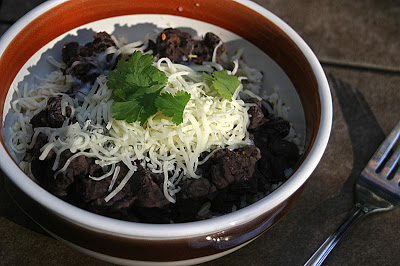 Day 309.
When I was in college, I went to my first vegetarian restaurant. (I was a vegetarian long before that, but grew up in a town where the veggie section at Asian restaurants was about as close as I could get.) That vegetarian restaurant/juice bar was called The Main Squeeze, and the very first item I tried there was a simple dish: black beans and brown rice with mozzarella on top. I quickly became addicted and bought (when I could afford it) or made my own version of the dish (when I had to use that money for laundry) regularly from then on. I make a "fancier version" (Black Beans and Rice with Sausage) now, too, but this simple, delicious dish will always have a huge place in my heart…any my tummy.
The Spike Seasoning (I like the hot and spicy style) can be found in health food stores and often in the health food section of grocery stores. Cajun seasoning would be a great substitute. This dish is also simple to make vegan, if you like by using Daiya mozzarella.
Black Beans and Rice
Ingredients for 1 serving
Black Beans & Rice:
four simple ingredients
1 cup black beans, cooked
1 teaspoon Spike seasoning (or cajun seasoning)
1 cup cooked brown rice*
1/4 cup Mozzarella cheese, shredded
fresh cilantro, chopped (optional)
*Note: For more flavor, I like to cook my brown rice with half vegetable broth and half water, or simply add enough Easy Slow Cooker Vegetable Broth for half the water.
Directions
Mix Spike (or cajun seasoning) with black beans and heat. Add more seasoning, to taste. Top your warm brown rice with seasoned beans, mozzarella and cilantro, if desired.
The Results
The kids are lucky I was willing to share a little of this one with them. It brings back a lot of memories and was the perfect simple lunch today.
This post is shared with What's for Lunch Wednesday , Gallery of Favorites, Simply Delish and Muffin Tin Monday.
The Super Easy Vegetarian Slow Cooker Cookbook
Want vegetarian and vegan recipes you'll love? Check out my first cookbook! I'm so excited about it and I hope you'll love it. You can find more information about it right
HERE
.