As an Amazon Associate, I earn from qualifying purchases.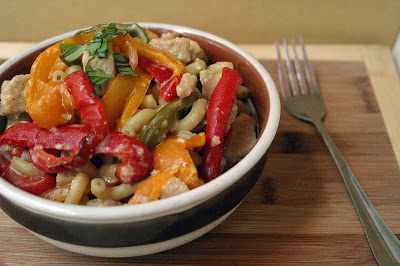 Day 252.
One of the biggest changes I like to make in veggie-converting a meal is enhancing the vegetables in some way. For me, this meant increasing not only the amount of bell peppers in this dish, but also the flavor. Instead of a simple stir fry (which is probably pretty tasty, too), I fire roasted my peppers with garlic, olive oil and House seasoning. This method is super simple and can be done ahead of time (and even packed with oil for future use. The "chicken" takes a back seat to the peppers now in this dish, and I think we'll love the flavor.
Bell Pepper Chicken Alfredo
Adapted from Colorful Chicken Alfredo.
Ingredients
4 cups "chicken" substitute (chickpeas, seitan or other "chicken"),  cooked and cubed
1 tablespoon House seasoning
1 tablespoon nutritional yeast
1/2 pound small pasta (macaroni, penne, farfalle)
4 tablespoons butter, divided
1 cup half and half
4 cloves garlic, minced
1/2 cup grated Parmesan cheese
salt and pepper
4-5 bell peppers, mixed colors, sliced
6 leaves fresh basil, chopped
Directions 
Preheat oven to 400. Toss sliced bell peppers with olive oil, a bit of  House seasoning and 2 cloves garlic, minced. Roast for 15-20 minutes. Stirring halfway through. Cook pasta. Meanwhile, place "chicken," broth, House seasoning and nutritional yeast in pan and heat through.
In a small saucepan, heat the the butter over medium heat until the butter is melted. half and half, and remaining garlic. Stir to combine, then slowly whisk in the Parmesan cheese. Let simmer, whisking occasionally.
Chiffonade the basil, drain and plate the noodles, then toss with the "chicken," bell peppers and sweet alfredo sauce. Top with basil.
The Results
This was simple and tasty. I really liked the dominance of the bell peppers in the dish. I went a little overboard on the amount of pasta (I think it was more like 3/4 of a pound) so the alfredo was a little thing. But the combination of flavors was delicious and I'm glad I increased the amount and fire roasted my peppers. Perfect.
This post shared at Fat Camp Friday, Crafty Friday, Friday Favorites, Potluck Friday,·Frugal Fridays, Foodie Friday, Fresh Food Friday and I'm Lovin' It.
The Super Easy Vegetarian Slow Cooker Cookbook
Want vegetarian and vegan recipes you'll love? Check out my first cookbook! I'm so excited about it and I hope you'll love it. You can find more information about it right
HERE
.