As an Amazon Associate, I earn from qualifying purchases.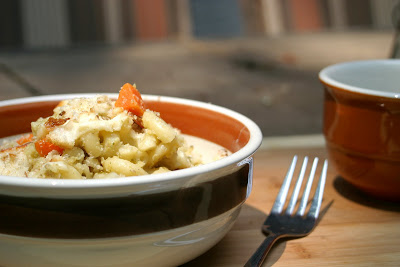 Day 160.
I'll tell you I hesitated about using the Broccoli Cheese filling from my Broccoli Cheddar Pockets Recipe for my Leftover Creation. It was so perfect as-is that I didn't want to waste it. I nearly made Eggplant Bruschetta Pasta with one of my canned Eggplant Caponata jars. But, I decided, since that's canned, I can always make that later. And I compromised by making a half-recipe (an 8 x 8 dish instead of a 13 x 9) of this pasta. Just in case.
Baked Broccoli Cheddar Mac
Ingredients
1/2 pound macaroni noodles
2 carrots, (about 1.5 cups) diced
1.5 cups Broccoli Cheddar filling
3 cups Mozzarella cheese, shredded*
1 cup homemade breadcrumbs (or panko)
Vegan Converter:
*3 cups Daiya shredded Mozzarella cheese 
Directions
Boil pasta. Meanwhile, dice carrots. With about 5 minutes left on pasta. Add carrots to water.
Preheat oven to 400.
Strain pasta and carrots. Add to a bowl and mix with Broccoli Cheddar filling. Spray an 8 x 8 baking dish with non-stick spray. Pour in cheesy pasta. Top with Mozzarella and bread crumbs. 
Bake at 400 for 15-20 minutes, until cheese is melted and browning and breadcrumbs are toasted. 
The Results
I was so wrong to make the half dish. This is fantastic. I absolutely love it. Cheesy and delicious and still tasting wonderfully like broccoli. The toast and cheese on top are just an extra layer of deliciousness.
I will happily make both the original Soup Pockets and this meal again. Yum.
Project: Food Budget
So far just $50 at Kroger this go-around. Adding that to the CSA box, we're at $96 for the month.
Goal: $75/$300
Actual: $50/$96
This post is shared with Simple Lives Thursday, Tip Day Thursday, Frugal Food Thursday, Recipe Swap Thursday,Recipes I Can't Wait to Try, Things I Love Thursday, It's a Keeper, Full Plate Thursday, Grocery Cart Challenge, Cooking Thursday and Ultimate Recipe Swap.
The Super Easy Vegetarian Slow Cooker Cookbook
Want vegetarian and vegan recipes you'll love? Check out my first cookbook! I'm so excited about it and I hope you'll love it. You can find more information about it right
HERE
.