As an Amazon Associate, I earn from qualifying purchases.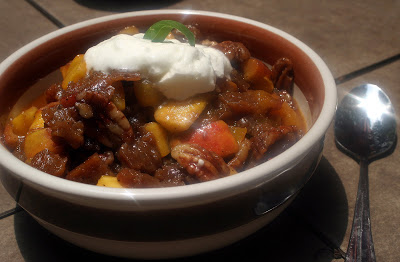 Day 195.
Somehow we ended up with very little in terms of leftover meals this week. However, I had a ton of peaches still (in spite of readying enough for tomorrow's Peach-Rhubarb Crisp). I also had some leftover "bacon" from another dish. I thought it could be interesting to join the bacon and fruit bandwagon with this one. I didn't do a lot of sugar, so it kept it leaning a bit toward the savory side, while still being sweet.
Bacon-Pecan Peaches
Ingredients
2 cups peaches, diced
1/4 cup sugar
olive oil
8 slices "Bacon," chopped
2 tablespoons brown sugar
1/2 cup pecan halves
1/2 teaspoon cinnamon
1/2 teaspoon nutmeg
1/4 teaspoon ginger
1/8 teaspoon onion powder
1/4 cup yogurt, vegan if desired (optional)
basil leaf (optional)
Directions
Masticate diced peaches with sugar in a bowl or plastic bag until juices are released. Meanwhile, fry bacon with a bit of olive oil and brown sugar about 5 minutes, or until crispy. Set aside.
When peaches are ready, warm over medium heat. Add cinnamon, nutmeg, ginger, onion powder and pecan halves. Cook for about 5-10 minutes, until peaches reach desired tenderness. Stir in bacon. Served topped with yogurt and basil leaf, if desired.
The Results
Oh wow. This tasted like the peach version of an apple dumpling. The yogurt melted into the fruit and tasted shockingly like whipped cream. I absolutely love this dish. I actually made it twice. The first time I cooked the bacon in with the peaches. But it worked out much better to keep them separate until the end. The bacon stayed much crispier that way. Yum.
This post is shared with Simple Lives Thursday, Tip Day Thursday, Frugal Food Thursday, Recipe Swap Thursday,Recipes I Can't Wait to Try, Things I Love Thursday, It's a Keeper, Full Plate Thursday, Grocery Cart Challenge and Ultimate Recipe Swap.
The Super Easy Vegetarian Slow Cooker Cookbook
Want vegetarian and vegan recipes you'll love? Check out my first cookbook! I'm so excited about it and I hope you'll love it. You can find more information about it right
HERE
.