As an Amazon Associate, I earn from qualifying purchases.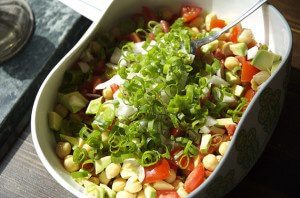 Back in May or so (before our family crisis) I was invited to become part of a meal plan blogger network. I've just now gotten around to it (mostly because of said crisis, and partly because I've been winging our meals a lot lately).
It was actually a tough choice over which eMeal plan to use. Sure, it seems like Vegetarian is a no-brainer, but there are so many good choices!
Clean eating, slow cooker clean eating, natural & organic, gluten-free and Mediterranean all called out to me. After all, I've been converting meaty meals to vegetarian meals for so long, that's old hat. Gluten-free, not so much. But, in the end, we decided to go with the Whole Foods Vegetarian Family Plan and do our best to convert it to gluten-free meals. They're mostly whole food ingredients in the plan already, so I don't have to do much there other than make breads instead of buying them.
We tried our first eMeal recipe for lunch on Friday. (Lunch is a bigger meal for us than dinner due to our schedule, so we just use the dinner plan during lunchtime.) The recipe was for Avocado & Tomato Salad. Mr. Meaty and I absolutely LOVED it. We made a few minor changes to suit our family and the girls loved it, too.
The shopping list is amazingly simple and I love that each item on the shopping list has a corresponding number for the recipe you're buying it for. That makes it stupid simple to change your grocery list if you decide to leave a meal off or alter a recipe to suit your family's tastes.
Goose (3) left the onions and strangely the cucumbers in her bowl while Bug (4) gobbled up every last bite.
It was a definite hit! Here's the recipe.
Avocado & Tomato Salad with Chickpeas
Ingredients
3 avocados, chopped
1 pint grape tomatoes, sliced in half
1 large organic cucumber, diced
1/2 cup diced red onion (or swap in sliced green onion for milder flavor)
1/4 cup chopped fresh cilantro
15 ounces canned chickpeas (or about 2 cups cooked), drained and rinsed
2 teaspoons minced garlic
1/4 cup lime juice
1/4 cup olive oil
1/4 teaspoon Kosher salt
1/4 teaspoon pepper
Instructions
Mix avocados, tomatoes, cucumber, onion, cilanro and chickpeas. Mix remaining ingredients and toss into avocado mixture.
Mix remaining ingredients in…
Photo Credit: Niklas via Compfight cc
Note: While I was provided me a complimentary 1-year subscription for the review, my opinions are 100% my own. See my full disclosure policy here. If you have any additional questions – feel free to send an email to [email protected]. This post contains affiliate links.
The Super Easy Vegetarian Slow Cooker Cookbook
Want vegetarian and vegan recipes you'll love? Check out my first cookbook! I'm so excited about it and I hope you'll love it. You can find more information about it right
HERE
.