As an Amazon Associate, I earn from qualifying purchases.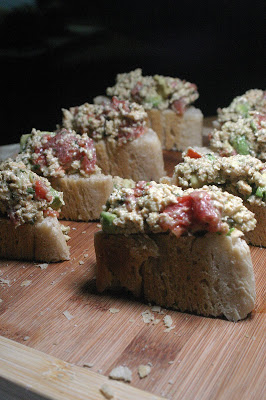 Day 243.
Yes, I'm going to try to make vegan crab. Yes, it scares me a little. No, I couldn't find anyone else's recipes to adapt or inspire me about mock crab. So let's all hope for the best here.
Avocado Crab Crostini
Adapted from Avocado Crab Crostini.
Ingredients
1 box of firm tofu, frozen, thawed and water pressed out
1 teaspoon kelp granules
2-3 tablespoons lemon juice
1 tablespoon nutritional yeast
1/2 cup vegannaise
2 avocados, pitted and chopped
1 cup tomatoes, chopped
1/2 cup "bacon" (Mushroom Bacon Bits or Black Forest Bacon Strips
1/2 teaspoon dried mustard
2 teaspoons chopped parsley
1/2 teaspoon salt
1/2 teaspoon pepper
2 tablespoons olive oil
1 french baguette (about 16 inches long)
Directions

Preheat oven to 375 degrees. Add one tablespoon of olive oil to a small bowl. Slice the baguette into rounds about 3/4 inch thick. Brush each round with olive oil and lay on a baking sheet. Bake for 6-8 minutes, or until baguette rounds are toasty and golden in color. Set aside.
Freeze your tofu ahead of time. Thaw and press out water. Shred thawed and pressed tofu with a fork, into a large bowl. Gently mix in kelp granules, lemon juice, nutritional yeast, vegannaise and 1/2 of one avocado, mashed.
Stir in remaining ingredients (except baguette).
Stir with a large spoon until the mixture is combined.
Serve in a large bowl with multiple spoons and a plate of the baguette rounds.
The Results
This was definitely different. I'd never attempted mock crab before. Nor could I really find much out there for mock crab recipes. But, I'd heard that kelp granules can give tofu a "fishy" flavor, so that's where I started. The lemon juice and nutritional yeast also added to the crabbiness. I really liked the flavors of the avocado and bacon.
This post is shared with Real Food Wednesday, Recipes I Can't Wait to Try, What's Cooking Wednesday, What's on Your Plate?, What's on the Menu Wednesday, Let's Do Brunch, Works for me Wednesday, Gold Star Wednesday, These Chicks Cooked, Foodie Wednesday, Cast Party Wednesday and No Whine Wednesday.
The Super Easy Vegetarian Slow Cooker Cookbook
Want vegetarian and vegan recipes you'll love? Check out my first cookbook! I'm so excited about it and I hope you'll love it. You can find more information about it right
HERE
.