As an Amazon Associate, I earn from qualifying purchases.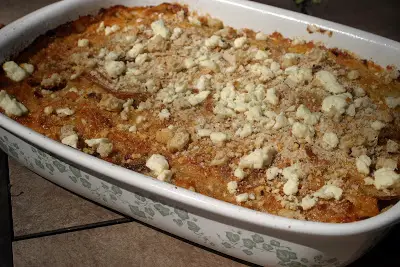 Day 188.
I made a fantastic Summer Squash Gratin last week, so I think that's why Au Gratin Potatoes popped into my head when I was thinking of what to create for this week's Leftovers Creation. I also had a ridiculous amount of potatoes leftover in my CSA box.
Between that and the fact that the only other leftovers we had were Cheese Blintz filling and Sweet Potato Mac and Cheese sauce, I knew what I had to do. I briefly pondered a taco mac recipe with the mac and cheese, but I just wasn't sure how those flavors would mesh. And here commences the au gratin experiment.
Au Gratin
Adapted from Betty Crocker Au Gratin Potatoes recipe.
Ingredients
2 tablespoons butter
1 large red onion, sliced*
1 teaspoon House seasoning
1 1/4 cups milk
1 cup Sweet Potato Mac and Cheese sauce (or you could sub 3/4 cup sweet potato puree and 1/4 cup vegetable broth)
1.5 cups cheddar cheese, shredded
6 cups potatoes, sliced 1/8-inch thick*
1/4 cup breadcrumbs
1/2 cup feta cheese, crumbled
*I broke out the KitchenAid slicer attachment for this recipe. It's a lot of slicing. I used 9 small gold creamer potatoes and 3 medium red potatoes
Directions
Heat oven to 375.
Melt butter on stovetop. Add onion and cook for about 2 minutes. Add flour and House seasoning. Cook until bubbly. Add sweet potato sauce and milk. Bring to a boil. Add shredded cheese and milk. Cook until cheese is melted.
Bake for 1 hour at 375. Top with breadcrumbs and feta. Bake another 15 minutes, or until top is browned and potatoes reach desired tenderness.
The Results
Mmm…I really like potatoes au gratin and this one is nice and tangy. My husband is not a big fan of feta cheese, so he grimaced a bit about that detail, but liked the potatoes overall. If you don't like feta either, use more cheddar on top. That'd be super yummy, too, I'd imagine. The kids literally screamed for more. Yum.
This post is shared with Simple Lives Thursday, Tip Day Thursday, Frugal Food Thursday, Recipe Swap Thursday,Recipes I Can't Wait to Try, Things I Love Thursday, It's a Keeper, Full Plate Thursday, Grocery Cart Challenge and Ultimate Recipe Swap.
The Super Easy Vegetarian Slow Cooker Cookbook
Want vegetarian and vegan recipes you'll love? Check out my first cookbook! I'm so excited about it and I hope you'll love it. You can find more information about it right
HERE
.