PAID ENDORSEMENT DISCLOSURE:I may receive monetary compensation or other types of remuneration for my endorsement, recommendation, testimonial and/or link to any products or services from this blog.
In addition to changing my diet, I am providing healthy endocrine support with essential oils. I've been using EndoFlex regularly and recently added Thyromin to my daily essential oils for healthy endocrine support routine.
7 Essential Oils for Healthy Endocrine Support & Energy
1. Endoflex: Endoflex can help you maintain overall vitality with a proprietary blend of essential oils that support the endocrine system. It contains the essential oils geranium, spearmint, sage, myrtle, nutmeg, German chamomile and sesame seed oil.
2. Copaiba: Copaiba is a powerful essential oil from South America that has traditionally been used to aid digestion and support the body's natural response to injury or irritation.* Copaiba contains the highest amounts of beta caryophyllene (55 percent) of any known essential oil. Copaiba essential oil may promote wellness, and can be an important part of a daily health regimen*. This oil includes the naturally occurring constituents beta-caryophyllene and alpha-humulene, and can be mixed with honey and warm water for a warming, essential oil-infused tea.
3. Clove: Clove essential oil promotes a healthy immune response, and may support overall wellness*. Clove has been used traditionally as a spice for thousands of years, and provides a rich and spicy addition to your favorite recipes. This oil includes the naturally occurring constituent eugenol, and is an important ingredient in many products including Thieves®, ImmuPower™, Inner Defense™, and Longevity™.
4. Myrtle: Myrtle is one of four essential oils in the Thyromin supplement. Myrtle (Myrtus communis) has a clear, fresh, herbaceous scent, similar to eucalyptus. Supportive of the respiratory system, skin, and hair, it has been researched for its effects on glandular imbalances* and its soothing effects when inhaled. It is also helpful for meditation and lifting the spirit. Myrtle has an approximate ORAC of 253,512 (TE/L). TE/L is expressed as micromole Trolox equivalent per liter.
5. Peppermint: Another of the Thyromin essential oils, peppermint (Mentha piperita) is one of the oldest and most highly regarded herbs for supporting normal digestion, including promoting healthy intestinal function and gastrointestinal system comfort.*
6. Spearmint: It is one of the essential oils in Young Living's Thyromin supplement. Spearmint essential oil includes naturally occurring carvone and limonene. Blend with Peppermint oil for digestive system support*. This oil is an important ingredient in many Young Living products including Citrus Fresh™, EndoFlex™, GLF™, Ningxia Nitro™, and Thryomin™.
7. En-R-Gee: En-R-Gee contains Nutmeg, black pepper, rosemary and clove and these are natural energy enhancers that may help with fatigue. En-R-Gee™ revitalizes with a blend of stimulating oils that have been used traditionally to help restore mental alertness. Uplifting and strengthening as the name suggests, it boosts energy.
BONUS. Thyromin supplement: Thyromin™ is a special blend of porcine glandular extracts, herbs, amino acids, minerals, and therapeutic-grade essential oils in a perfectly balanced formula that maximizes nutritional support for healthy thyroid function.* The thyroid gland regulates body metabolism, energy, and body temperature. It includes Peppermint, Spearmint, Myrtle and Myrrh essential oils as well as Bovine adrenal and pituitary gland extract. Myrrh includes the naturally occurring constituents furanoeudesma-1,3-diene, curzerene and lindestrene.
Whether you or a loved one are looking for healthy endocrine support, get started on the oily journey today by learning more about becoming a Young Living wholesale member. And be sure to join my Oily Geeks essential oils Facebook group.
Love it? Pin it, please!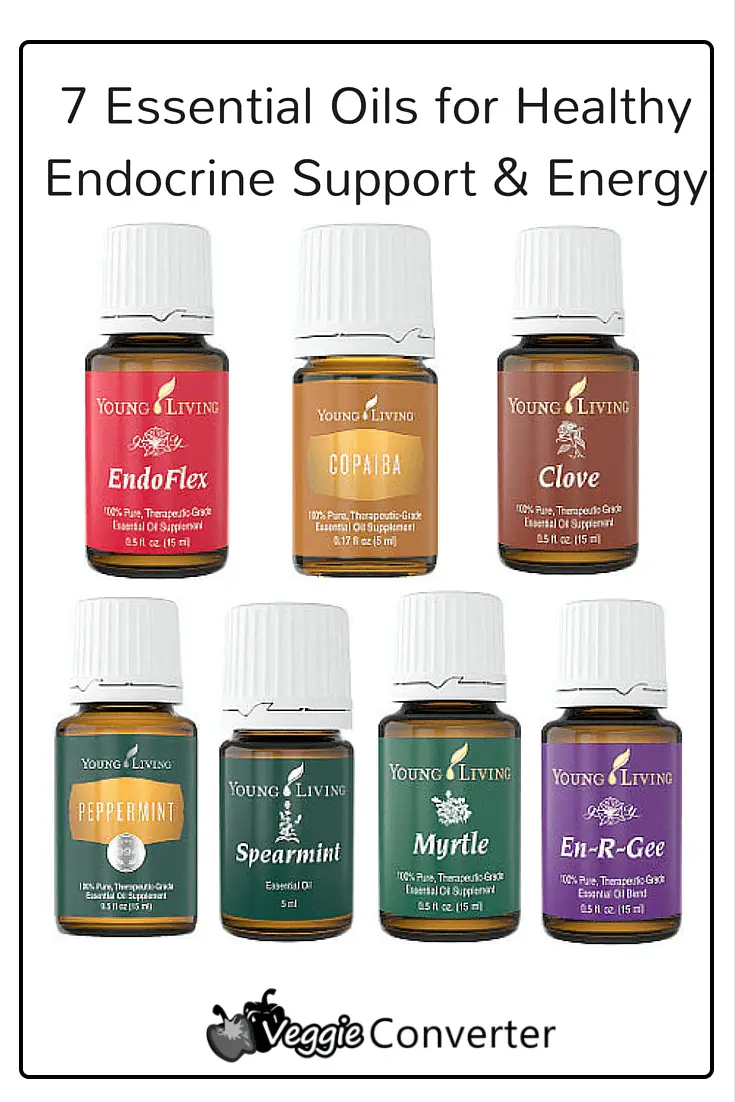 Due to spam, I've decided to close comments on posts older than 14 days.
PAID ENDORSEMENT DISCLOSURE: I may receive monetary compensation or other types of remuneration for my endorsement, recommendation, testimonial and/or link to any products or services from this blog. We are a participant in the Amazon Services LLC Associates Program, an affiliate advertising program designed to provide a means for us to earn fees by linking to Amazon.com and affiliated sites.