I've been on a bit of a baking kit lately. I have no idea why. Maybe it's because I've finally found a couple of gluten-free and gluten-light flours I really like that don't give me headaches or tummy aches. In my other life, my pre-gluten-free life, I LOVED lemon bars and lime bars. Mr. Meaty and I used to make them ALL. THE. TIME. We're both citrus dessert people in general. Yes, we love our brownies. But, given our druthers, we'll take lemon or lime anything.
So I'm excited to finally reintroduce lime bars to our lives. These are a little different than our usual bars, they have coconut flakes and are on an oat flour crust, but I'm absolutely loving the key lime flavor. You can swap out lemon juice and lemon oil for the key lime and lime if you like and make a yummy lemon version. These were a hit with the girls and our guests.
Gluten-Free Coconut Key Lime Bars
Method
For crust: Preheat oven to 350 degrees Fahrenheit. Lightly grease an 8×8 pan or line it with parchment.
Add your oats, coconut, and honey granules to a food processor and grind it all until your oats are a fine, flourlike powder.
Add butter or coconut oil oil and pulse until mixture pulls into a ball. (Depending on your oats, you may need a little more.) Mine didn't quite ball up, but it was nice and mounded.
Press the mixture into your prepared pan and bake at 350 for 10 minutes. Let it cool until the crust is firm and the pan can be touched. I shut my oven off at this point and walked away for a while.
For filling: While crust is cooling, beat eggs well. Add in juice, lemon/lime oil, and honey granules. Remove ¼ cup egg mixture and whisk in arrowroot. Add the arrowroot mixture back to egg mixture and whisk well. Preheat your oven again, if necessary.
Pour the filling over your cooled crust and bake for 18 minutes at 350 or until top is no longer wet.
For topping:
Add juice, water, honey granules, and arrowroot to a small pot. Cook over medium heat until mixture thickens slightly.
Stir in the coconut. Pour over the bars once they're out of the oven. Let cool and sprinkle a little more coconut on top to make the bars extra pretty (kind of like a sugar-free decorative powdered sugar sprinkle). Serve or store in refrigerator.
Love it? Pin it, please!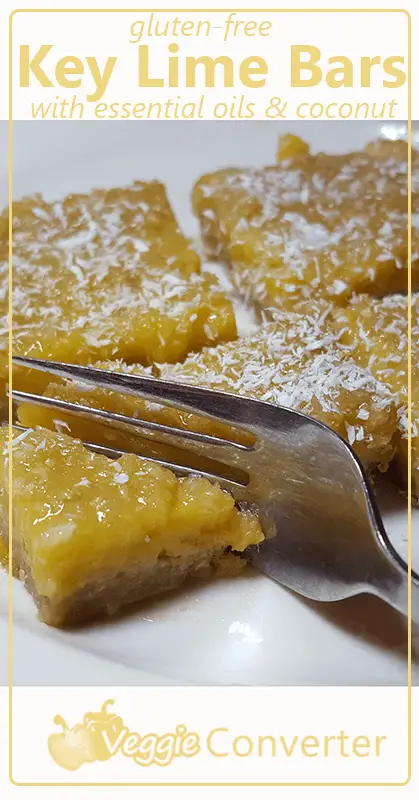 Due to spam, I've decided to close comments on posts older than 14 days.
PAID ENDORSEMENT DISCLOSURE: In order for me to support my blogging activities, I may receive monetary compensation or other types of remuneration for my endorsement, recommendation, testimonial and/or link to any products or services from this blog. I'm an affiliate with Amazon.com. If you use Amazon and would like to help me earn a little money to enable me to keep providing you excellent content, click this link for my favorite Julienne Peeler. You do not have to buy the item, but I'll receive a very small commission on anything you buy on Amazon within 24 hours. Thank you for your support!